Kidspiration is part of our Sunday School program for children in 6th grade and younger.  Each quarter, we have a theme that includes a new set, different characters and skits that deliver a Biblical message.
Kidspiration is a program designed to create excitement for our children as the learn the stories of the Bible.  Characters such as Bart the Builder or Mr. Rogers act out skits and include lessons from Bible characters such as Moses, David, or Jesus.  We hope that these lessons will be memorable for our children as they grow up to become working Christians in the church.  Each week is a new adventure through the Bible!
Boy Meets World
This week in Kidspiration, we will continue our new quarter called Boy Meets World.
Last week, we met Theodore Snow, a new student from Canada who joined Mr. Smiley's 5th Grade class at Josh Barnett Elementary School in the Falling Star School District. Mr. Smiley taught his first lesson in Classroom 13 in the basement of the school, but he had a tough time managing the two mischievous students, Larry Hime and Mildred Stokes. Theodore helped everyone learn about the beginning of the Church in Acts 2.
This week, we will learn about the early Church in Acts 2 and Acts 4 as the children learn to share when Anna Graham breaks her pencil.
Our Memory Verse for the quarter is Acts 1:8b.
You will be my witnesses.  You will tell people everywhere about me—in Jerusalem, in the rest of Judea, in Samaria, and in every part of the world.
This week, we will learn about the Day of Pentecost as Mr. Smiley tries to teach his students to speak Spanish.
Golden Gates Awards
Mr. Rogers, The Swami, The Riddler, Woody, Sr, Bart the Builder, Delmer, the Goosebumps family, the Bumbles, and even Lincoln Log – what do they all have in common?
They have all been characters in Kidspiration!
This quarter will be the 50th quarter of Kidspiration since the program began in 2008!  Given this historic occasion, we will celebrate this quarter with The Golden Gates Awards!
Our hosts for the show, Oscar, Tony, & Emmy, will bring back characters from previous quarters who have been "nominated" for awards such as Best Costume, Best Duo, Best Family, & Best Actor or Actress.  The lessons will focus on stories in Genesis, and we will bring back memory verses from previous quarters.  Make sure you are here each week; you won't want to miss any of the special nominees!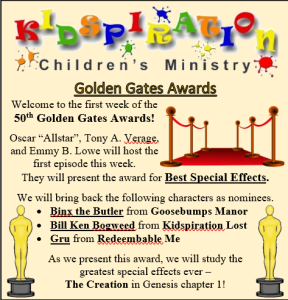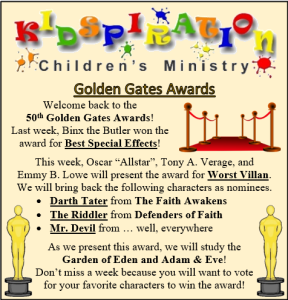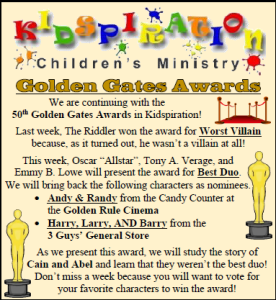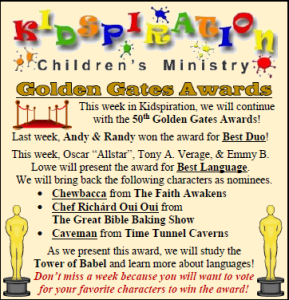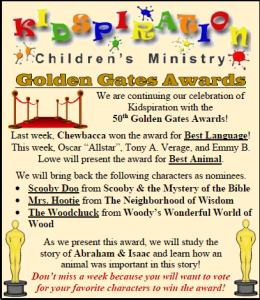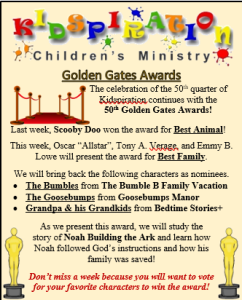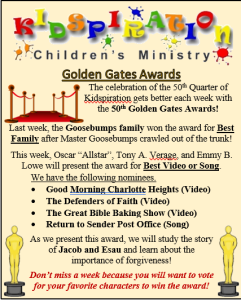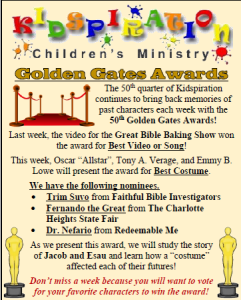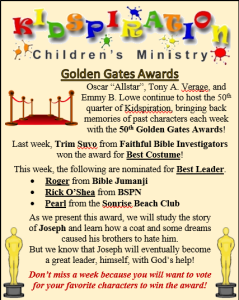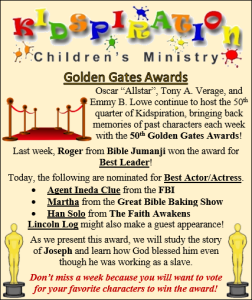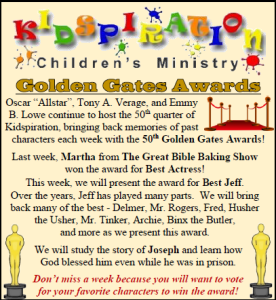 Introduction   Best Special Effects   Worst Villan   Best Duo   Best Language   Best Animal   Best Family   Best Video or Song   Best Costume   Best Leader   Best Actor or Actress   Best Jeff   Best Engineer   Best Kidspiration Quarter
Click on the links below to view past lessons and be on the lookout each Sunday at 10:15 for the next lesson.  We hope to see you soon.
Here are summaries of previous Kidspiration quarters: