Kidspiration CLUB is a school year long program for kids that creates a fun, exciting atmosphere to learn about God with a focus on scripture memory. Each week, clubbers will participate in 3 rotations…Large Group Lesson Time, Handbook Time and Game Time. Clubbers will work in a handbook throughout the year and earn awards as they complete the material.
Be making plans for these upcoming dates.
December 4 – Service Project
December 11 – Review Night
December 18 – Christmas Party
December 20 – Reward Night
December 25 – No Kidspiration Club (Merry Christmas)
January 1 – No Kidspiration Club (Happy New Year)
We had a great first night as you can see from the pictures and hope that you can join us each week.   First Night Summary
See below for the Clubber registration form for children.  Print and mail it to our church office or bring it to one or our services to get registered.  You can also view a brochure with more information.
clubber registration 19-20       Wed night brochure 2019-2020
The weekly meetings will be from 6:15 to 7:45 in rotations as not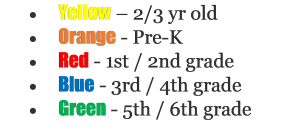 ed above.  Each child will also receive a t-shirt and backpack color coded by age group.
The following is the weekly schedule: